The Boost is one of the Power Ups in Fun Run. It will help to make you run faster.
You can use the boost by tapping the power up button and your avatar will substantially increase the overall speed of the player even after the boost is over. It can only lasts for five seconds without using other power ups such as the heart and the shield or dying by your opponent's attacks.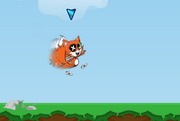 During regenerating is the best timing to boost to avoid your opponent's attacks.
Ad blocker interference detected!
Wikia is a free-to-use site that makes money from advertising. We have a modified experience for viewers using ad blockers

Wikia is not accessible if you've made further modifications. Remove the custom ad blocker rule(s) and the page will load as expected.