Heart
| | |
| --- | --- |
| Type of Power Up | Shield |
| Time | Unlimited |
| Powers | Absorbs one hit from any opponent's weapons or traps |
The Heart is a type of power up that can absorb one hit from any weapons or traps. When the Heart is activated, two small hearts are seen rounding the player.
The Heart can be used with no time limit until any weapons or traps hits the shield, causing it to disappear. It can only absorb one hit from any weapons or traps by other players and acts like a shield to protect the player from getting hit by any weapons or traps for one hit.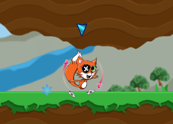 The Heart can be deactivated if the shield receives one hit from a weapon or a trap, activating another Shield or Boost was used.
If you got the Heart power up while you are using the Shield power up (or vice versa), wait until one of the shield was deactivated before using the other shield for longer protection against your opponent's attacks.
Ad blocker interference detected!
Wikia is a free-to-use site that makes money from advertising. We have a modified experience for viewers using ad blockers

Wikia is not accessible if you've made further modifications. Remove the custom ad blocker rule(s) and the page will load as expected.