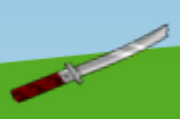 The Target is a
power up
 that the player can use to kill another player of his choice. Once it is gotten, a red arrow will appear above any player (also shown in the progress bar) only on the user's screen, hovering for a second before moving to the player in the next position backwards. After it got to the player in the last position, it will move back to the player in the first position. When the power up is triggered, the player which has the red arrow above it will be killed, unless it is protected by a
shield
, a
heart
or is regenerating. It can also kill the user, so the user has to be very careful when he/she triggers the Target.
The Target has the shape of a Samurai sword, and when it is triggered, the targeted player will have its head sliced off. If the targeted player is protected, only a slicing action of the sword will be seen with no damage to the player.
Ad blocker interference detected!
Wikia is a free-to-use site that makes money from advertising. We have a modified experience for viewers using ad blockers

Wikia is not accessible if you've made further modifications. Remove the custom ad blocker rule(s) and the page will load as expected.